PCI Compliance
The Importance of Protecting Your Information
What is PCI Compliance? PCI Compliance refers to the universal set of standards known as the PCI-DSS, the Payment Card Industry Data Security Standard. The standards apply to all organizations accepting debit or credit card transactions and were put in place by the PCI Security Standards Council composed of major credit card companies including Visa, MasterCard, American Express, Discover and JCB. The Council has placed the responsibility of ensuring your compliance on you – not only are you responsible for your compliance but also for the compliance of your vendors. For instance, if you use a third-party to process your debit and credit card transactions, you need to ensure that vendor meets PCI standards – just as your vendors are required to ensure that your practice is meeting PCI standards
We tend to assume that our practices are safe. We trust our staff, and we feel like they are well-trained and well-informed of the need to be diligent in protecting confidential customer information. Unfortunately, the concern cannot be limited to your staff but must also include the hacker working to get your information. No practice is immune, and the regulations affecting your practice are always changing.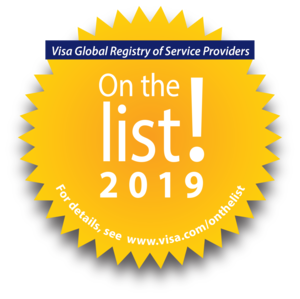 Thinking that a data breach won't happen to us can lead to trouble quickly.  Don't think so?  Take a look at the list of Cases Currently Under Investigation provided by the U.S. Department of Health and Human Services' Office for Civil Rights, https://ocrportal.hhs.gov/ocr/breach/breach_report.jsf.  As of May 14, 2019, their list of breaches of unsecured protected health information currently under investigation by the Office for Civil Rights contained 476 covered entities.  Of these 476 entities, 352 were classified as healthcare providers.  Keep in mind that, as required by section 13402€(4) of the HITECH Act, this list only contains breaches affecting 500 or more individuals that have been reported within the last 24 months.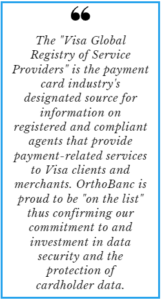 Breaches don't discriminate. Even large companies with vast technological resources have come under cyberattack. Organizations such as Anthem Blue Cross, Equifax, Facebook, Google+, Marriott, Orbitz, T-Mobile, TRICARE, UCLA Health System, and Yahoo have been attacked and breached. According to the California Department of Insurance's website, Anthem reported that their data breach, including current and past enrollees, potentially compromised the information of up to 80 million people. Marriott's data breach, as reported by the Washington Post in November 2018, exposed the private travel details of up to 500 million of their customers.
Let us help. Let's face it – data thieves are becoming more and more sophisticated, meaning you need a solution that can adapt just as quickly as they do. Paymentbanc offers an easy-to-use PCI Compliance Solution designed to help you navigate the ever-evolving Payment Card Industry compliance regulations. In addition, our solution provides $100,000 in data breach protection at no additional cost. Don't get overwhelmed; we are here to help. Please reach out at [email protected] or 888-758-0585, option 2, for more information.